Networking Juniper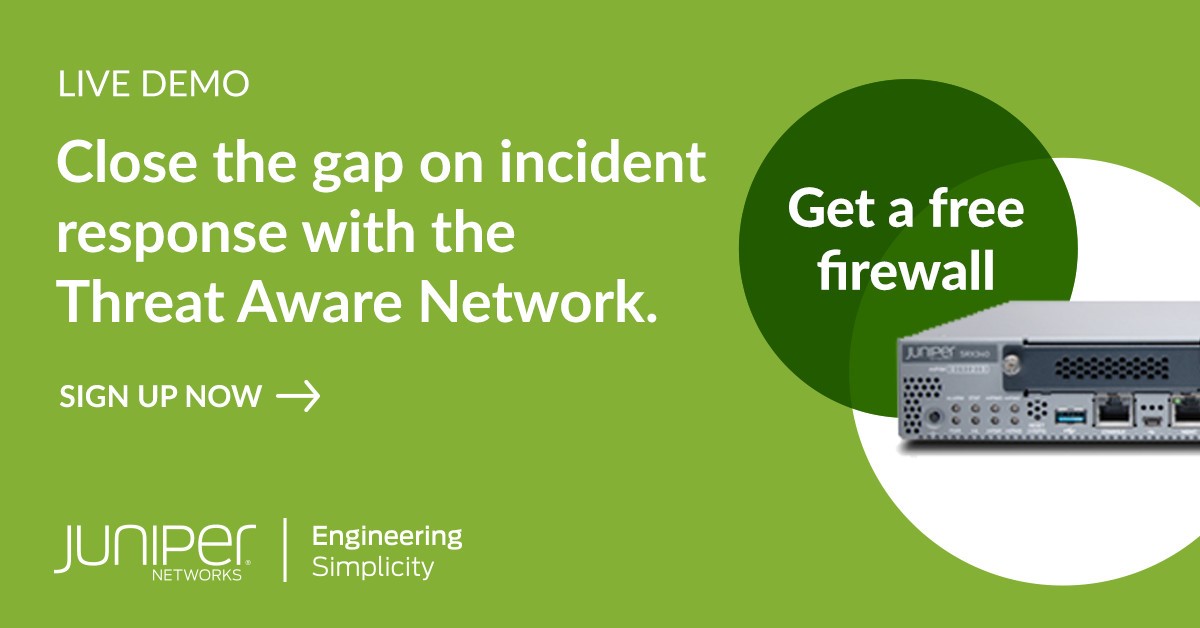 Next Generation Firewall services
Overview
Organizations are in an arms race with cyber criminals, who constantly develop new exploits that evade detection and compromise defenses. These cyber attacks are highly effective and have enabled a multi-billion-dollar industry in which criminals sell a company's intellectual property to the highest bidder. Security solutions that stay ahead of this continual escalation are crucial to protecting your business's people, data, and infrastructure.
Juniper Next-Generation Firewall (NGFW) Services provide an array of cyber defenses to reduce your attack surface in this challenging environment. With the SRX Firewall at their foundation, NGFW Services safely allow the operation of critical applications and block advanced malware from entering your network. Available on all SRX platforms, our security services reduce the attack surface in real-time and stop cyber criminals before they can breach your organization's defenses.
Features
Advanced Application Visibility and Control
You can identify applications running on your network regardless of port, protocol, and encryption. This visibility lets you immediately block evasive applications inline at the SRX firewall.
Nested Application Support
You can accurately identify applications embedded in common network protocols such as HTTP or HTTPS traffic. This capability also provides visibility into and granular control over applications hidden inside encrypted SSL traffic.
User and Role-Based Policies
Tight integration with Microsoft AD and LDAP allow you to set and enforce user- and role-based security policies. Policy setting becomes simpler and more secure, because you reduce the number of policies needed to account for user location, IP address, and so on.
SSL Inspection
Inline decryption and inspection of inbound and outbound Secure Sockets Layer (SSL) connections at the SRX firewall provide visibility and protection against threats embedded in SSL encrypted traffic.
Junos OS Integration
Integration with Juniper's operating system consolidates and optimizes services on SRX devices for maximum scale.
High-performance security with advanced, integrated threat intelligence, delivered on the industry's most scalable and resilient platform. SRX Series firewalls set new benchmarks with 100GbE interfaces and feature Express Path technology, which enables up to 2-Tbps performance for the data center.
Organizations are increasingly moving workloads to the cloud to capitalize on virtualization benefits—but with that move comes new security requirements. Enter the vSRX Virtual Firewall, providing scalable, secure protection across private, public, and hybrid clouds.
The vSRX offers the same features as our physical SRX Series firewalls but in a virtualized form factor for delivering security services that scale to match network demand. It offers the same features as the SRX appliance, including core firewall, robust networking, full next-gen capabilities, and automated life-cycle management. Handling speeds up to 100 Gbps, the vSRX is the industry's fastest virtual firewall.
CSRX Container Firewall – Click Here
Businesses increasingly rely on container technology for developing and deploying cloud-native applications. The cSRX Container Firewall protects your containerized environments with advanced security services, including content security, intrusion prevention system (IPS), AppSecure, and unified threat management (UTM).
Purpose-built for containers, the cSRX is a production-grade, next-generation firewall (NGFW) that can be spun up or spun down in subsecond times. It delivers security, agility, and resource efficiency that matches the ephemeral state of container environments.

Juniper Advanced Threat Prevention (JATP) finds and blocks both known and unknown network cyberthreats. It uses SecIntel, Juniper's security intelligence feed, along with sandboxing and machine learning to identify day-one threats.
You can deploy Juniper Advanced Threat Prevention as a cloud service add-on to the SRX Series firewall or as an on-premises JATP Appliance that collects and processes security issues identified by the SRX Series. In both types of deployments, you can set up policies on the SRX to block threats flagged as malicious.
Juniper Advanced Threat Prevention products ingest data from your secure web gateways, firewalls, and endpoint security software, protecting your existing security investments. When integrated with Juniper QFX Series, EX Series, or third-party switches, Juniper Advanced Threat Prevention products provide automated remediation. Infected hosts are automatically quarantined from your network.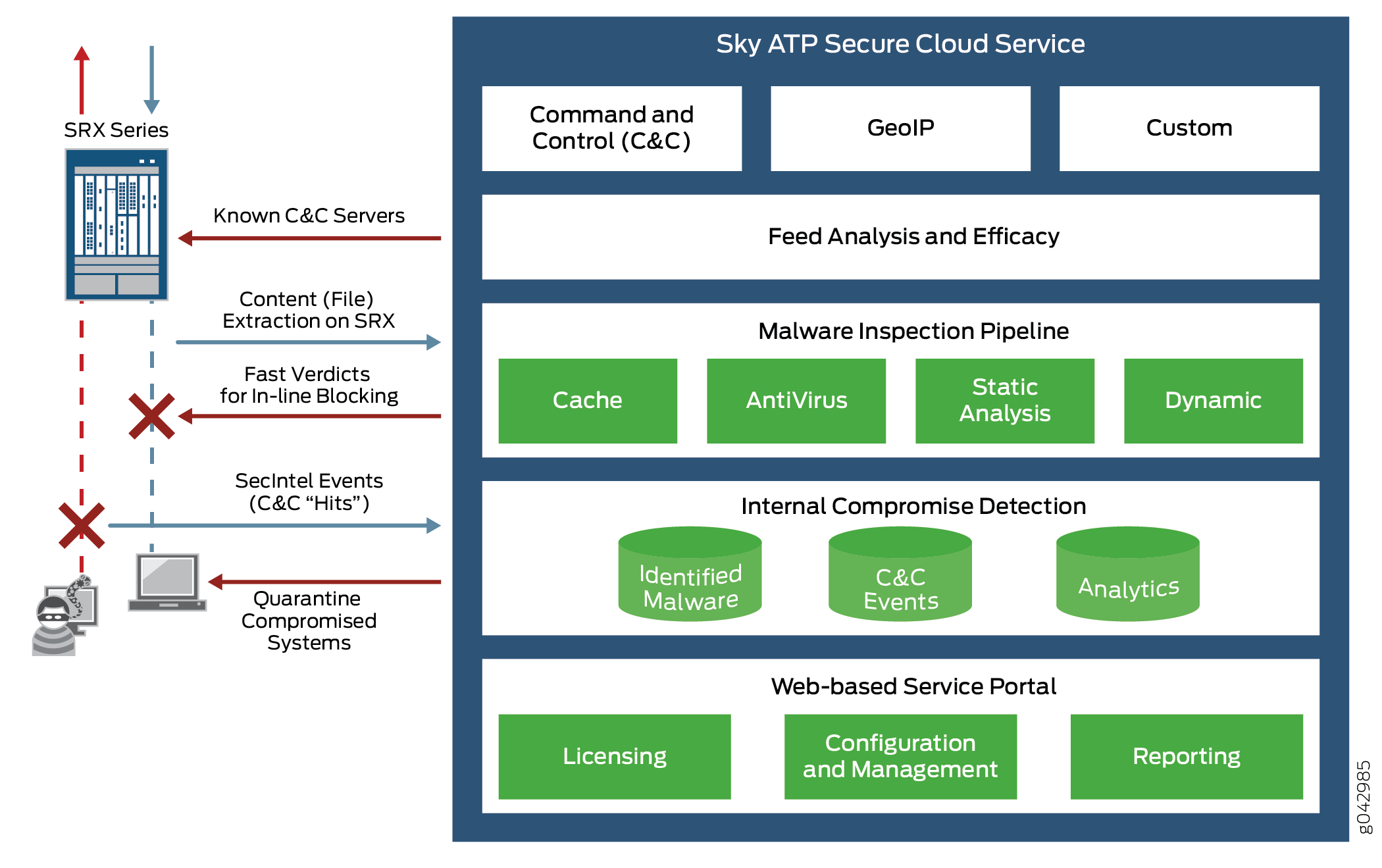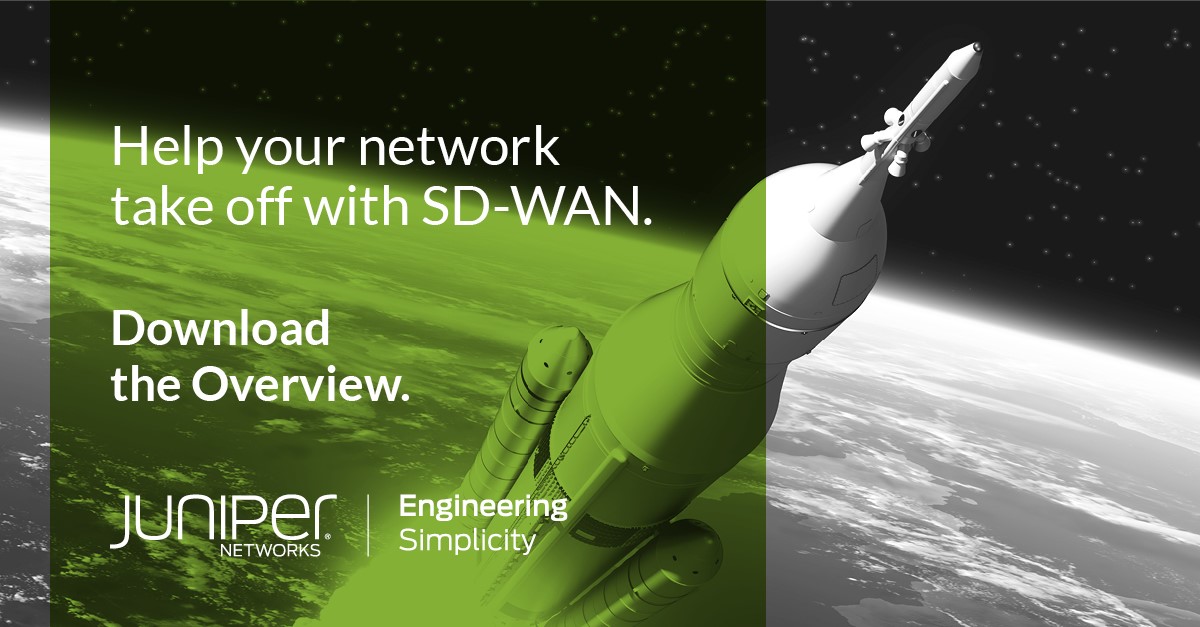 EX Series Ethernet Switches
Highly Available, Powerful Ethernet Switches.
EX2300 / Multigigabit
Compact, high-density, cost-effective switch for small network environments where space and power are at a premium.
Multigigabit, compact, high-density, cost-effective entry level switch for small to midsized network environments, where space and power are at a premium. Compact, power-efficient switch for low-density branch offices and enterprise workgroups with a fanless design ideal for open office deployments and commercial applications.
EX3400
Cost-effective access switches with the performance, flexibility, and ease of management previously available only with high-end platforms.
Featuring models offering either 24 or 48 10/100/1000BASE-T ports, the EX3400 switches also support IEEE 802.3af Power over Ethernet (PoE) or 802.3at PoE+ for powering networked telephones, video cameras, wireless LAN access points, and other IP devices. Four front-panel dual-mode (GbE/10GbE) small form-factor pluggable transceiver (SFP/SFP+) uplink ports and two 40GbE quad SFP+ (QSFP+) ports are also available for connecting the switches to upstream devices.
EX4300
Supports branch, campus, and data center access and aggregation deployments. EX4300 1 Gigabit Ethernet (1GbE) switches are compact, fixed-configuration platforms that can be deployed as standalone systems or as part of a Virtual Chassis, Virtual Chassis Fabric, or Junos Fusion switching architecture, satisfying a variety of high-performance campus and data center access needs. More……
EX4600
The EX4600 Ethernet Switch offers a compact, highly scalable, high-performance 10GbE solution for enterprise campus distribution deployments as well as low-density data center top-of-rack environments. More……
Single Point of Management
Interconnected switches supporting Virtual Chassis operate as a single logical device for simplified management.
Eight Quality of Service (QoS) Queues per Port
Flexible configuration options ensure proper prioritization of voice, video, and multiple levels of data traffic, with room to converge other networks such as building automation and video security systems.
Security Risk Management
Integrated Unified Access Control (UAC) capabilities help EX Series switches dynamically deliver network protection, guest access, and identity-based QoS.
Wire-Speed Performance
High 1GbE, 10GbE, 40GbE, and 100GbE port densities dramatically simplify network topologies and operations.
Innovative, Cost-Effective Design
Support for multiple architectures in a cloud-grade product family paired with the Junos OS reduces cost and complexity, while unified management and automation tools consolidate system monitoring.
High Availability
Dual internal load-sharing AC power supplies and redundant variable-speed fans protect switches from a single power supply or fan failure, improving system uptime.
MX Series 5G Universal Routing Platform
A robust portfolio of SDN-enabled routing platforms that provide industry-leading system capacity, density, security, and performance with unparalleled longevity. MX Series routers are the key to digital transformation for service providers, cloud operators, and enterprises in the cloud era.
MX Router Click Here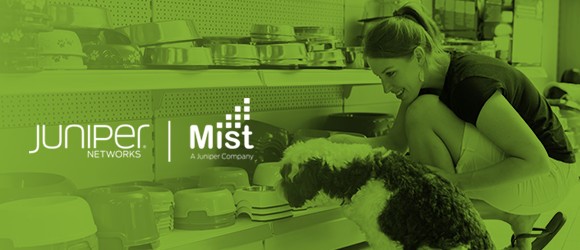 Mist Platform
Automate wired and wireless operations and offer innovative location-based services.
Juniper Networks MIST Wi-Fi
Transform your business with a modern microservices cloud architecture and inline engine that provides unprecedented scale, agility, insight, and automation. And get groundbreaking subscription services for the perfect blend of connectivity, troubleshooting, analytics, and engagement.

Make Wi-Fi predictable, reliable, and measurable with unique visibility into user service levels.
Deliver reliable wired experiences with service levels enabled by rich Junos switch telemetry.
Accelerate Your Digital Transformation with End-to-End Visibility and Business Insights.
Simplify everyday IT tasks with the first and only AI-Driven Virtual Network Assistant.
Leverage Virtual Bluetooth LE technology and cloud-based machine learning for real-time indoor location services.
Find key assets and people, and detailed location analytics with Mist's patented Virtual Bluetooth LE technology.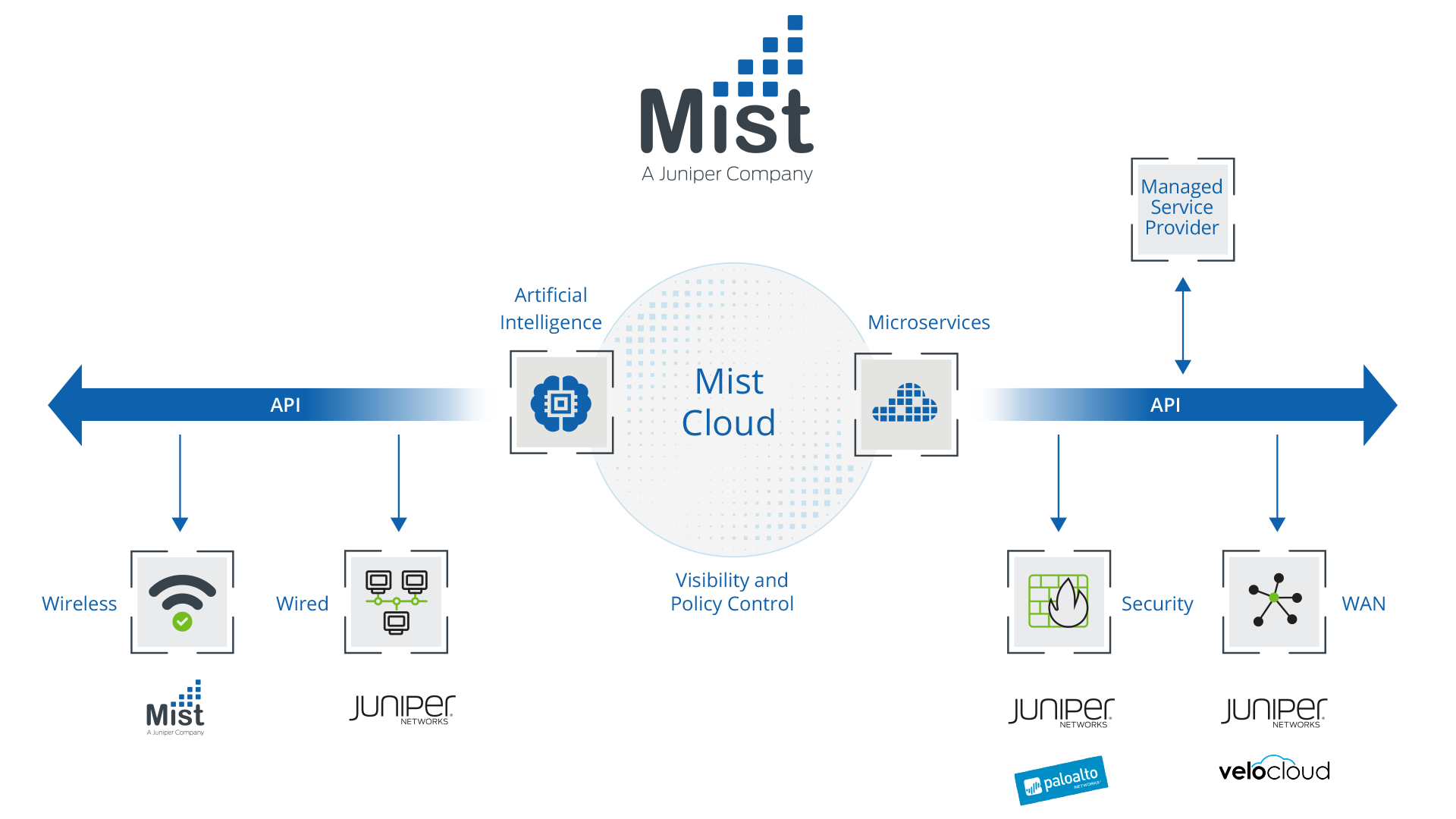 Mist Access Points
Mist leads the convergence of Wi-Fi, BLE, and IoT with enterprise-grade access points. These products offer data collection, analysis, and policy enforcement, along with machine learning, location services, and event correlation. They also include an expansion port for IoT devices.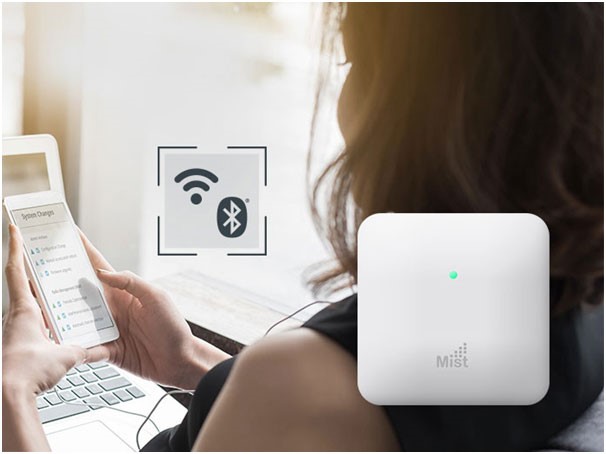 Superior Wi-Fi and BLE Performance
In addition to delivering unparalleled Wi-Fi range and performance, Mist access points have a dynamic vBLE 16-element antenna array for the industry's most accurate and scalable location services. Models are available with 802.11ax (Wi-Fi 6) and 802.11ac Wave 2 radio technologies.
Data Collection, Analysis, and Enforcement
Mist access points are purpose-built to collect metadata for more than 150 states that allow the cloud-based AI engine to perform analytics, machine learning, location services, and event correlation. Access points incorporate a third radio for always-on security monitoring and troubleshooting.
Converged, Enterprise-Grade Platform
Mist access points include an IoT interface port to integrate and control IoT devices. This feature enables access points to bridge the physical, location, and connectivity realms, unlocking value from your network.
Mist Access Points Comparison