Video Conference Horion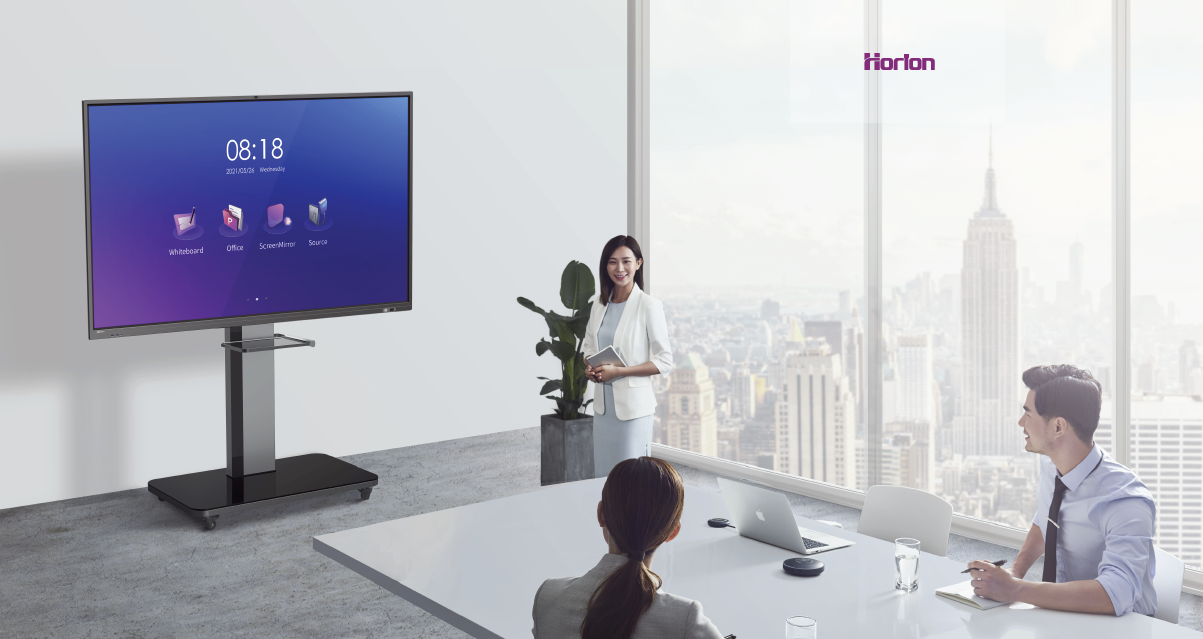 New Image of High-end Conference
With European design masters , Horion use new design language to create new products and win national patents to upgrade the image of the conference room Horion smart interactive flat panel integrates functions of six devices, including projector, electronic white board, computer, display, advertisement player and audio equipment. It is a multi-purpose machine f or conference demonstration, white-board writing and annotation, wireless screen mirroring, video conference and remote cooperation, making modern conference easy and efficient.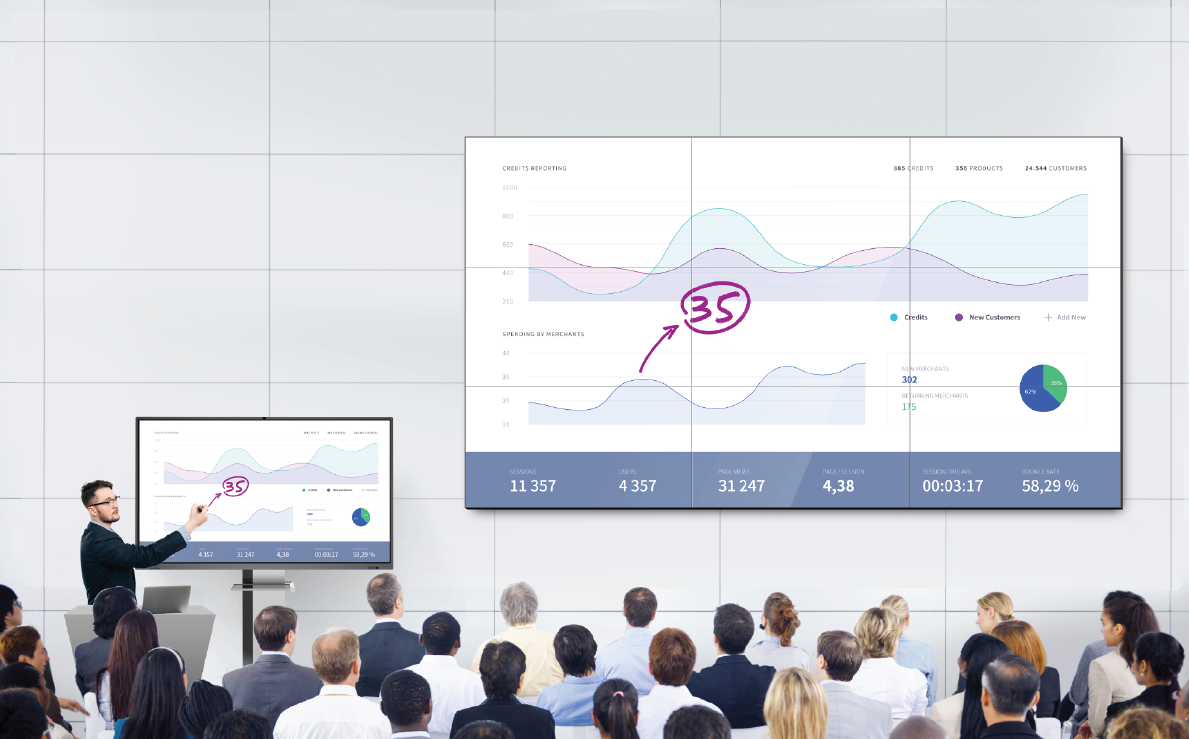 Small Screen Mirroring to Big Screen
The independently developed screen Apple mobile phones, tablet computers, laptops and other devices. Horion interactive flat screen can interact with the laptop and the spliced large screen, making information transmission faster.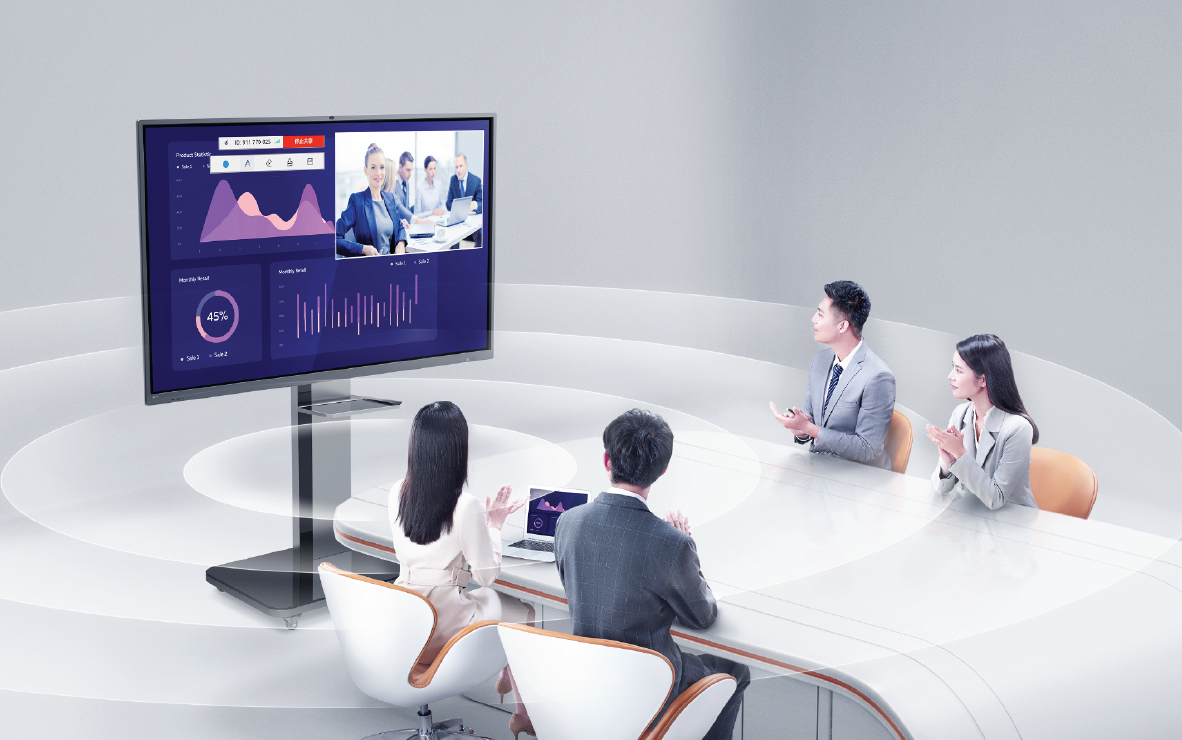 Horion M5APro - Extraordinary Wisdom
Horion M5APro interactive flat panel is a professional all-round smart conference pioneer and has a wider range of scene cooperation ability, making collaborative office zero distance. Just one Horion M5APro can easily realize video conference, whiteboard writing, wireless screen mirroring and remote cooperation, with more functions and simple operation.
Zero-distance Cooperation
It completely breaks the time and space constraints. With unique cloud conference system, mobile phones, iPads, computers and interactive flat panels can be accessed for real-time, stable face-to-face communication, sharing and cooperation
Android 9.0 Smart Operating System + WINDOWS 10 System
With Android system, you can choose computer module to realize Windows system.
Zero Fit Screen
The distance between the toughened glass and the screen is 0, which can effectively prevent light reflection. The display effect is excellent, and the writing experience is excellent.
13MP Camera
Built-in 13MP camera for clearer teleconference and High-quality screen.
8-Array Microphone
With echo cancellation, noise suppression, beamforming and other voice algorithms, clear audio pickup, efficient communication, far-field pickup distance up to 8 meters, and no dead corner in the conference room. Clear and stable audio-visual pickup system bring excellent audio-visual conference experience.
High-quality Dual Speakers
Matched with the digital sound system, the voice is clear and penetrating, and the bass is vigorous. It can make you feel the shocking sound effect.
NFC
With built-in NFC function and smart pen, the whiteboard function can be adjusted at any time.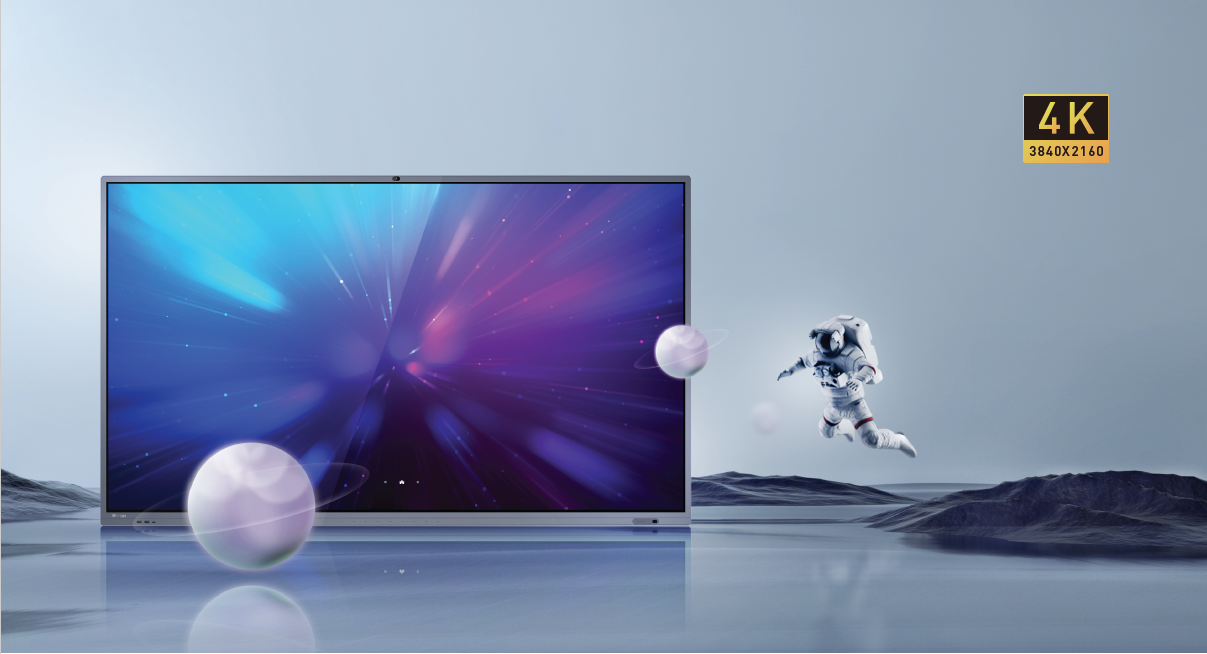 4K Commercial Screen
3840×2160/ Commercial Grade / High Brightness
3.2mm AG anti-glare toughened glass is used to effectively eliminate strong glare. Horion interactive flat screen with Moh's hardness level 7, it provides a better writing experience. Thanks to the high-quality 4K ultra-high-definition commercial screen and fifth-generation color engine chip, it presents you with more natural picture quality.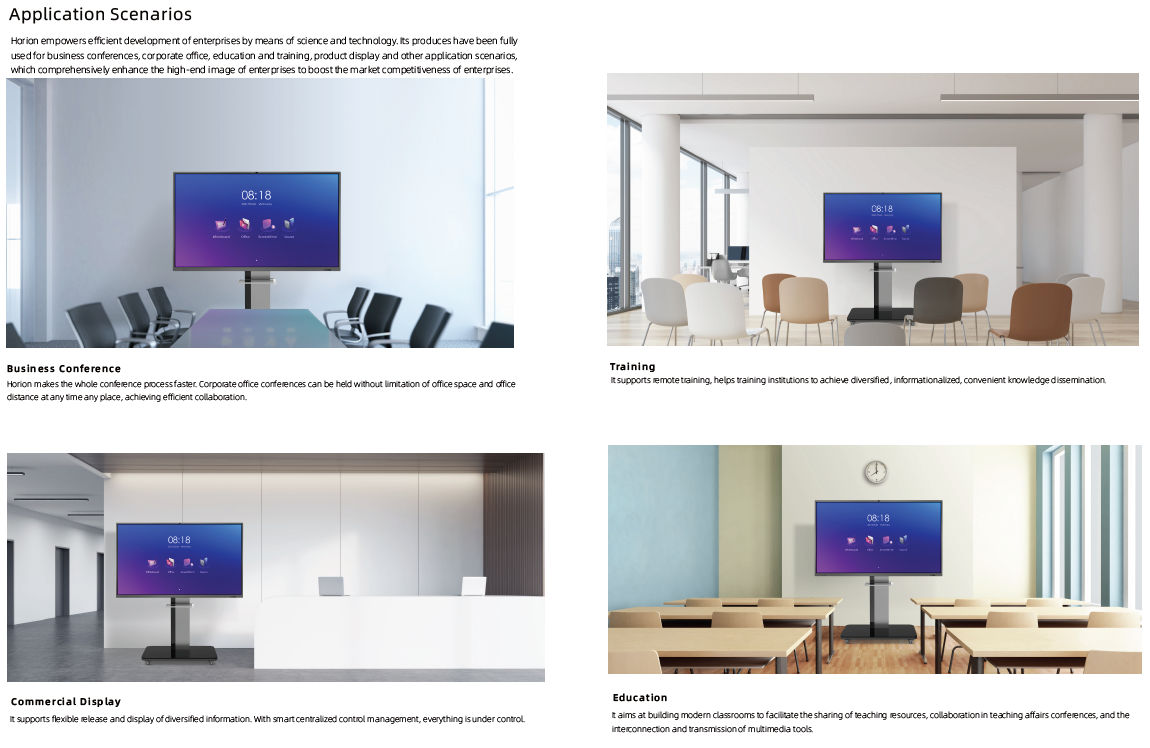 Application Scenarios
Horion empowers efficient development of enterprises by means of science and technology. Its produces have been fully used for business conferences, corporate office, education and training, product display and other application scenarios, which comprehensively enhance the high-end image of enterprises to boost the market competitiveness of enterprises
Business Conference
Horion makes the whole conference process faster. Corporate office conferences can be held without limitation of office space and office distance at any time any place, achieving efficient collaboration.
Training
It supports remote training, helps training institutions to achieve diversified, informationalized, convenient knowledge dissemination.
Commercial Display
It supports flexible release and display of diversified information. With smart centralized control management, everything is under control.
Education
It aims at building modern classrooms to facilitate the sharing of teaching resources, collaboration in teaching affairs conferences, and the interconnection and transmission of multimedia tools.