Infrastructure Quantum

WHO WE ARE
At Quantum, we focus on creating innovative technology and solutions to help our customers get the most value from their data. With 40 years of storage know-how, Quantum's technology, solutions, and services help customers capture, create, and share digital content – and preserve and protect it for decades. Whether it's unlocking the potential of digital content, powering breakthrough innovations, creating entertainment that enriches lives, or keeping nations secure, Quantum works with customers and partners to make the world a happier, safer, and smarter place.
CREATE. INNOVATE. PROTECT. ON QUANTUM.
Helping the world's leading organizations unlock the potential of rich digital content. Whether powering innovations, creating entertainment, or keeping nations secure, Quantum works with you to make the world a happier, safer, and smarter place.
BOLD SOLUTIONS TO HELP YOU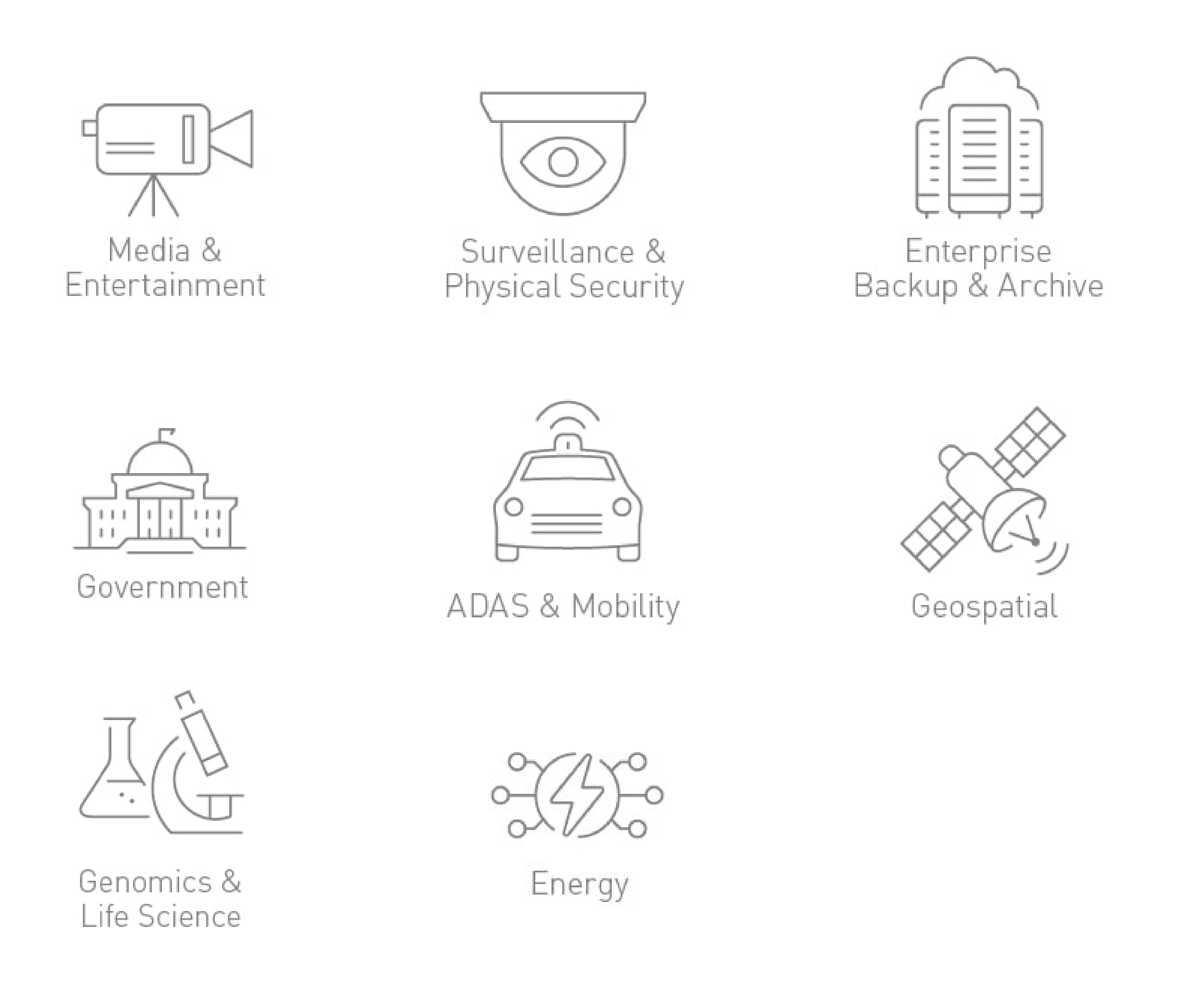 HIGH-PERFORMANCE
SHARED STORAGE
HIGH PERFORMANCE MEETS ADVANCED DATA MANAGEMENT
Quantum high-performance storage enables coordinated and shared access to your critical data. It includes Xcellis® workflow storage and RAID storage for data. Quantum F-Series is an ultra-fast storage array for editing, rendering, and processing your video content and other data sets.

FILE SYSTEM
STORNEXT FILE SYSTEM
StorNext®, our award-winning file system, is a combination of a high-speed file system and advanced data management software. With a unique combination of performance and management, StorNext extends its power to media and entertainment and other highly data-intensive environments such as genomics, academic research, surveillance and industrial IoT, oil and gas, and government security.

VIDEO SURVEILLANCE
SECURITY INFRASTRUCTURE FOR VIDEO SURVEILLANCE AND PHYSICAL SECURITY
Quantum's security infrastructure portfolio of NVR recording servers, VS-HCI Series, video analytics servers, and shared archive storage.

IN-VEHICLE DATA CAPTURE
QUANTUM R-SERIES
The R-Series is designed for capturing data in rugged environments, from military vehicles to autonomous research vehicles in rough terrain. The R-Series allows you to capture, upload, manage, and store high-speed data 'in the field.'

ACTIVESCALE OBJECT STORAGE
INFINITE. ONLINE.
DURABLE.
Whether the data is satellite imagery, film industry dailies, office documents, research data, or corporate reports, the value lies in its long-term retention and availability. Built on next-generation technology, Quantum's durable object storage scales to hundreds of petabytes.

TAPE STORAGE
INDUSTRY-LEADING PERFORMANCE, RELIABLITY,
AND SCALABILITY.
Scalar® LTO tape storage provides the lowest-cost, long-term storage for archiving and retention, and offline storage to protect against ransomware. With the most intelligent features, industry-leading performance, reliability, and scalability, Quantum remains the market share leader in LTO tape storage.