Networking H3C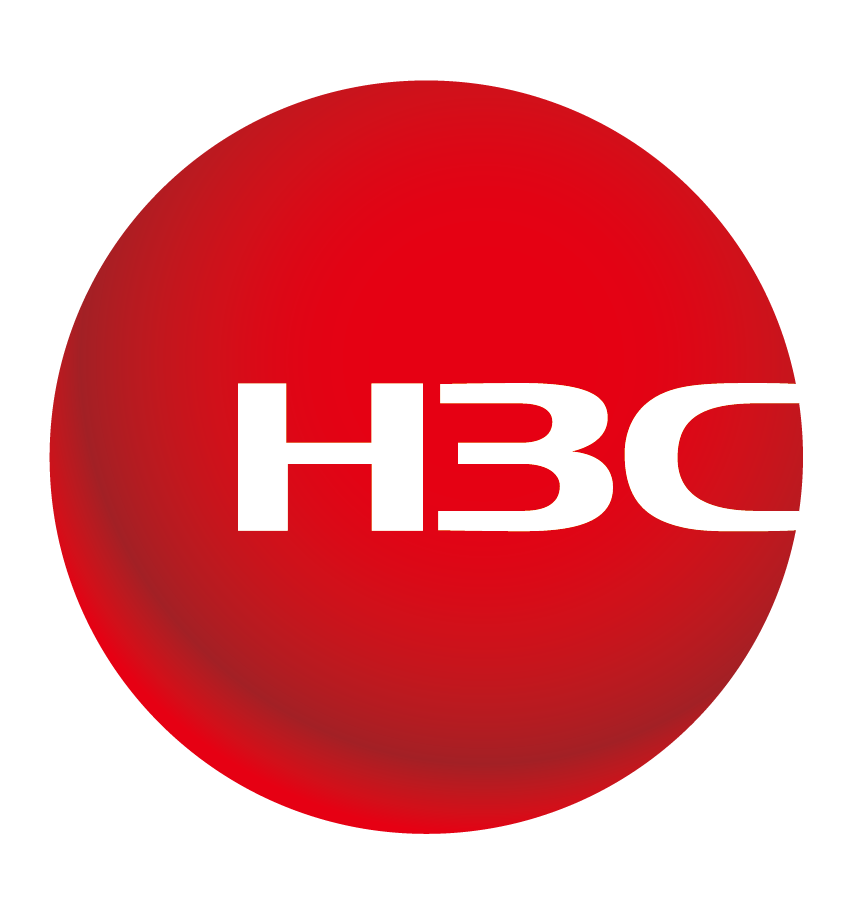 H3C is an industry leader in the provision of Digital Solutions, and is committed to become the most trusted partner of our clients in their quest for business innovation and digital transformation.
H3C offers a full portfolio of Digital Infrastructure products, spanning across compute, storage, networking, security and related domains, and provide a comprehensive one-stop digital platform that includes cloud computing, big data, artificial intelligence (AI), intelligent connectivity, 5G solutions, information security, new safety, Internet of Things (IoT) and edge computing, as well as end-to-end technical services. H3C is also the exclusive provider of HPE® servers, storage and associated technical services in China.
H3C has firmly oriented ourselves towards the needs of our customers, supported by a deep foundation with more than 30 years of operation. We provide scenario-based and customized solutions to our customers, enabling digital transformation in various industries that include, but not limited to carrier, government, finance, healthcare, education, transportation, manufacturing, utilities, energy, and Internet, etc., products are widely used in nearly 100 countries and regions.
H3C focuses on technical innovation as its engine for growth. Currently, more than 50% of our employees are R&D personnel. We have filed over 10,000 patents, of which more than 90% are invention patents. Through advanced technical capabilities and intelligent measures, we will continue to fully implement "intelligence +", and further promote the application of intelligence in various industries.
"Shaping the Digital Future for a Better Life" is the corporate vision of H3C. We are aiming to drive the development of the digital economy, and together with customers and partners, to create a better life for all to enjoy.
What H3C offer
Digital Technology Practice, Application-Driven Network
With the aim of "Application-Driven, Interconnection of Everything", H3C Application-Driven Networking Solution (AD-NET) provides a proactive, adaptive and versatile network to achieve two capabilities: massive connection of things based on the Internet of Things (IoT), and network reconstruction based on the Software Defined Network (SDN). It creates a sustainable and massively-connected ecosystem to support the traditional industrial chain for digital transformation, and provides a reliable and nimble network infrastructure for digital transformation of the society.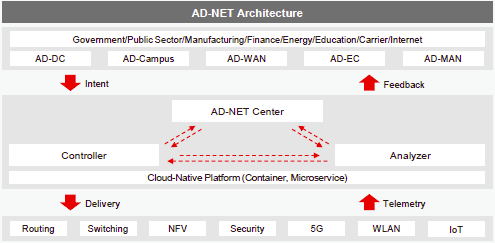 AD-NET solution has great benefits in the following aspects. The first is perception. The network will collect the intention of the front-end application or the intention of the machine. The second is analysis.AI-based analysis platform will correlate the data collected by the front-end through a series of algorithms with the controller to form a complete solution for analysis and decision-making, then automatically deliver and optimize the network.
In the field of network intelligence, H3C released AD-NET Controller to realize intelligent control, operation and maintenance of the network, reducing the costs for customers.
In addition, AD-NET combines traditional network architecture with AI technologies, which can predict network issues, perceive potential security threats, illegal access devices and anomalies of IoT devices. It can also instruct the controller to make automatic corrections. With the help of the Analyzer, AD-NET can greatly improve the efficiency of operations and maintenance effectively respond to attacks, and adapt to the changes of data traffic.
H3C proposes an innovative and business-oriented loop to the intelligent network, namely perception, analysis, action, optimization and compliance. In the course of digital transformation, more abundant sensing methods, smarter analysis, more effective actions, more agile optimization strategies, and better compliance mechanisms will be used to support customer business innovation and revenue increasement.
Digital Products to Promote Industrial Development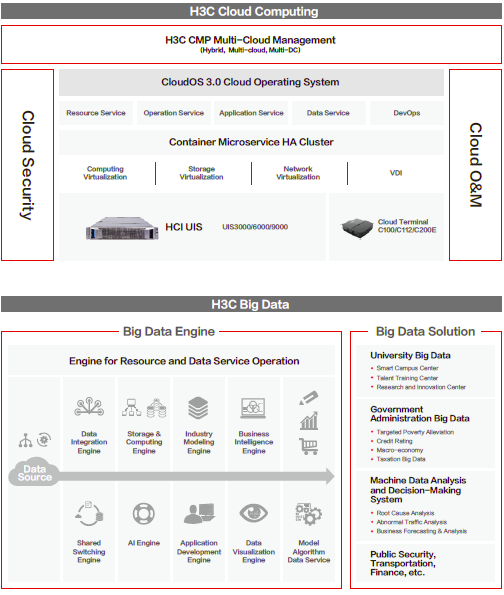 Products & Technology

Router
H3C has more than 20 years' experience on Router since the first router launched in 1996, with the investment of market and R&D, H3C is the vendor that could provide complete router series and the comprehensive solution covering carries and enterprise scenarios. Especially in China, H3C is main enterprise router provider, and becomes the leader in digital solution. According to the latest survey, H3C branch routers have cumulative sales of over one million units and have accumulated more than 30,000 units of high-end routers.

Switches
After over 20 years of networking innovation, research and development, H3C has accumulated significant industry-leading Ethernet-related intellectual property and numerous patents. With a range spanning ten series and hundreds of switches, H3C's options can cover your networking needs – from the data center core to campus access and remote branches. And all products run H3C's Comware OS, providing a unified command interface that simplifies configuration and maximize automation.
To further reduce customers' IT maintenance workloads, allowing them to focus on IT strategy and deployment, H3C offers a comprehensive, innovative virtualization solution. Via virtualization of one set of physical network resources into multiple logical networks, different security and management policies for different users can easily be configured.
For data center applications, integration, virtualization and automation form the three main pillars of H3C's approach, which allows deployment of security integration, network virtualization and automated management solutions in unified Ethernet-based data center solutions, maximizing network resource utilization, and greatly reducing the hardware investments required to achieve desired levels of service.

Wireless
Wireless solutions involve all walks of life, such as high-density coverage solution, mobile campus solution in the era of Big Data, intelligent medical solution, Wi-Fi positioning solution and unified wired wireless solution, which can provide different types of targeted scenarios. In the tide of mobile Internet, H3C Oasis platform can provide a proprietary O2O service platform for service providers, channel partners and terminal manufacturers in the wireless ecosystem.
H3C commitment to its "Quality-focused, IntelliSense" product development philosophy, has allowed it to maintain technical exchange and collaborative relationships with many types of customers worldwide.

Security
H3C security product line focuses on network security and application security, providing integrated network and application products/solutions to customers. H3C has been engaged in the security field for more than 10 years, with more than 1,000 patented technologies in the field of information security, H3C also joined hands with Microsoft, Kaspersky, CVE, Commtouch, ICSA and other renowned international security organizations and manufacturers to ensure the consistent protection of various security products.
In the field of security products, H3C covers network layers, application layers, and security management. There are over 300 products, including next-generation firewalls, VPN, UTM, IPS, ACG, load balancing, security management centers, cloud security solutions, and situational awareness systems. These products can be applied to different environments, including Fast-Ethernet, Gigabit, 10 Gigabit and higher speed. Layer 2 to layer 7 full-service security protection helps meet the needs of future cloud computing, IPv6, Web2.0, and other new services and applications.

Network Management
H3C iMC is a unified management and control platform for H3C series solutions, providing many management services, such as terminal detection, intelligent portals, access security management, mobile office management, network resource management and so on.
H3C iMC is also a complete management platform for dynamic agile networks. By delivering consistent visibility, it can improve mean time to action, abstract away network complexity to deliver meaningful management data, and simplify infrastructure deployment.

SDN&NFV
Building on the basis of a traditional network, the H3C new network combines the latest network technology such as SDN and NFV. It is an open, elastic and flexible system. With various Northbound and Southbound APIs, the H3C new network supports development of third party applications, and can fit in with the user's business and carry out in-depth integration with all industries for innovation. It can further release the network's hidden potential and construct an improved and harmonious IT ecosystem through SDN.

Cloud Computing
H3C CAS Cloud Computing Management Platform is a customized virtualization and cloud computing management software for enterprise data centers. With the powerful R&D and product advantages of H3C as well as the spirit of "customer-centric", H3C CAS Cloud Computing Management Platform can provide the most advanced virtualization and cloud business operation solutions for cloud computing infrastructure of enterprise data center in the industry.H3C CAS Cloud Computing Management Platform is based on the leading virtualization architecture in industry, realize the central management and control of IaaS environment in data center. It has succinct management interface for unified management of all physical and virtual resources in data center. It can not only improve the management ability of IT personnel and simplify routine work, but also reduce the complexity and management cost of IT environment.

HCI
H3C UIS HCI is a new generation product of cloud data center infrastructure solution launched by H3C for IaaS (Infrastructure as a Service) including UIS-Cell 3000、UIS-Cell 6000 and UIS 9000. It is pre-installed the industry-leading UIS HCI 6.5 software, which integrates computing、storage、network、security、O&M and cloud platform to achieve out-of-the-box. The cloud computing environment can be built in 30 minutes to realize a simple hardware architecture platform with only servers and switches and a unified software defined data center resource pool. By monitoring and managing the physical hardware and virtual resources of computing storage network in a unified way, the service can be deployed quickly and flexibly, and the overall TCO can be effectively reduced by unified management through a simple interface to make UIS the best infrastructure platform for cloud computing