Cyber Security elastic

About Elastic
Elastic is a search company. As the creators of the Elastic Stack (Elasticsearch, Kibana, Beats, and Logstash), Elastic builds self-managed and SaaS offerings that make data usable in real time and at scale for use cases like application search, site search, enterprise search, logging, APM, metrics, security, business analytics, and many more. Thousands of organizations worldwide, including Cisco, eBay, Goldman Sachs, Microsoft, The Mayo Clinic, NASA, The New York Times, Wikipedia, and Verizon, use Elastic to power mission-critical systems. Founded in 2012, Elastic is a distributed company with Elasticians working in countries around the world. Learn more at elastic.co.
What is Elastic?
Elastic is a search company that makes data usable in real time and at scale for Enterprise Search, Observability, and Security.

Elastic solutions are built on a single technology stack (the Elastic Stack) that can be deployed anywhere to instantly find actionable insights from any type of data — from finding documents, to monitoring infrastructure, to hunting for threats.
What is Elastic's search technology?
Elastic created the Elastic Stack, a powerful set of software products that ingest and store data from any source, and in any format, and perform search, analysis, and visualization in milliseconds or less.

Developers build on top of the Elastic Stack to apply the power of search to their data and solve business problems. We have also built software solutions on the Elastic Stack to address Enterprise Search, Observability, and Security use cases.

The Elastic Stack and our solutions are designed to run on premises, in public or private clouds, or in hybrid environments.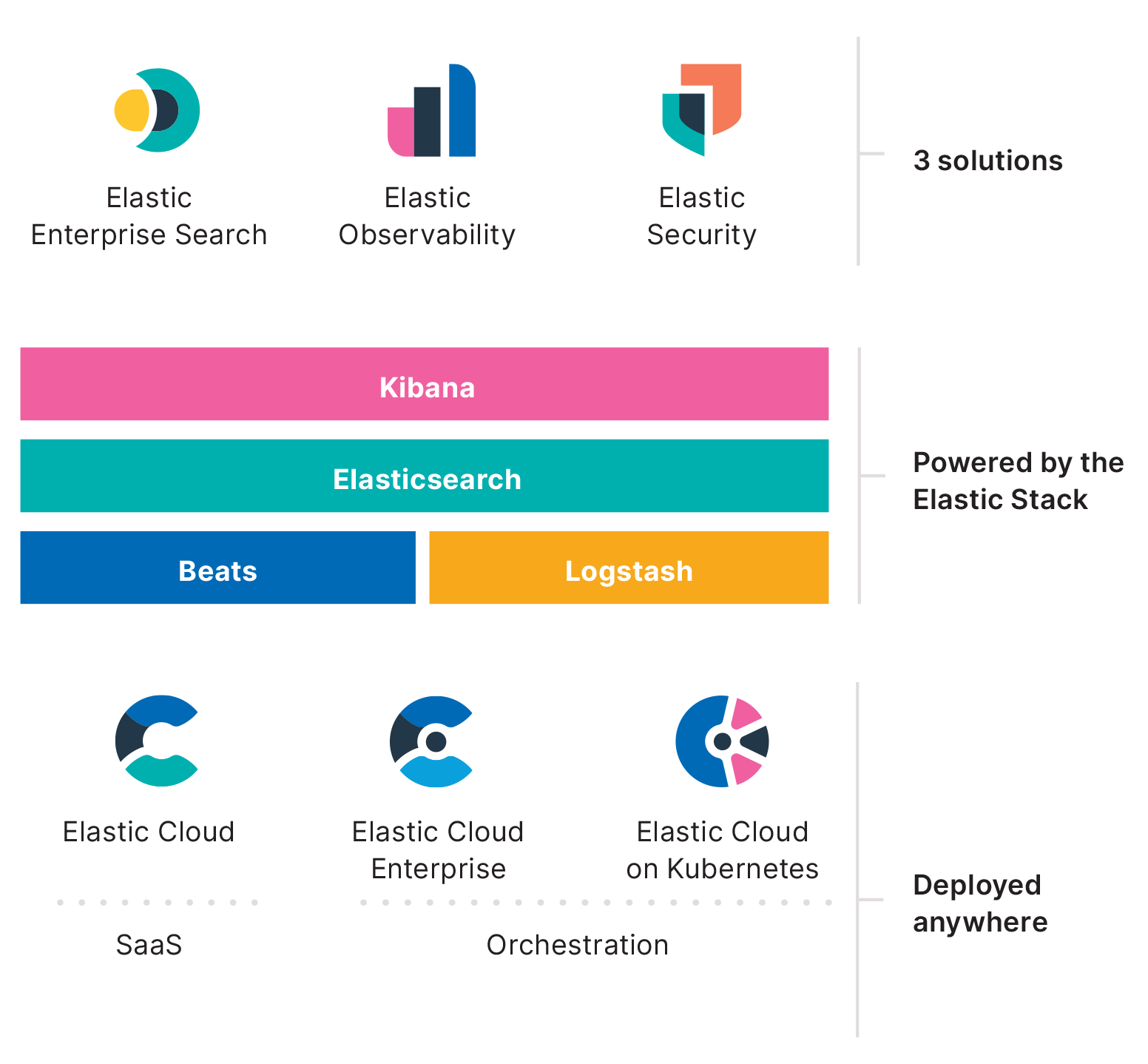 Check out the ​Elastic Demo Gallery​, a Kibana environment with a collection of little examples to let anyone experience different features of the Elastic Stack.​Also take a look at the ​Elastic SIEM product page​ and the ​Intro to Elastic SIEM webinar​ on Elastic.co.
Elastic Security
Elastic SIEM & Security Analytics
A SIEM for Elastic Stack users everywhere
Why do organizations power their security operations and threat hunting programs with the Elastic Stack? Speed, scalability, and analytical power. Whether you're adopting Elastic SIEM within your SOC, augmenting an existing technology, or building a custom security application, Elastic's technology gets you there.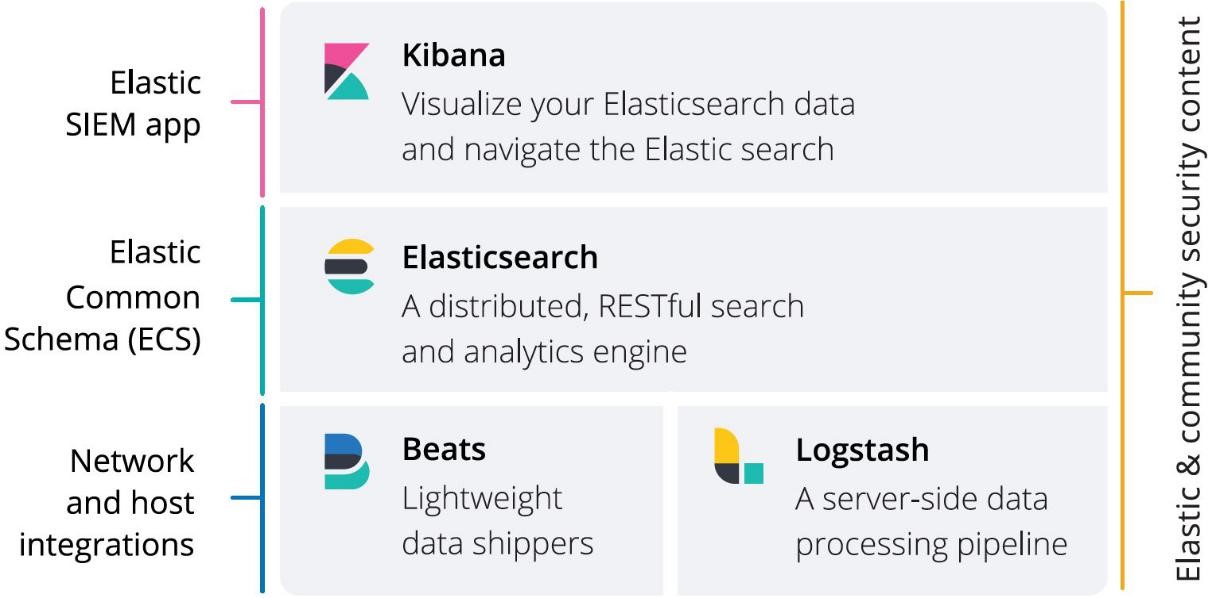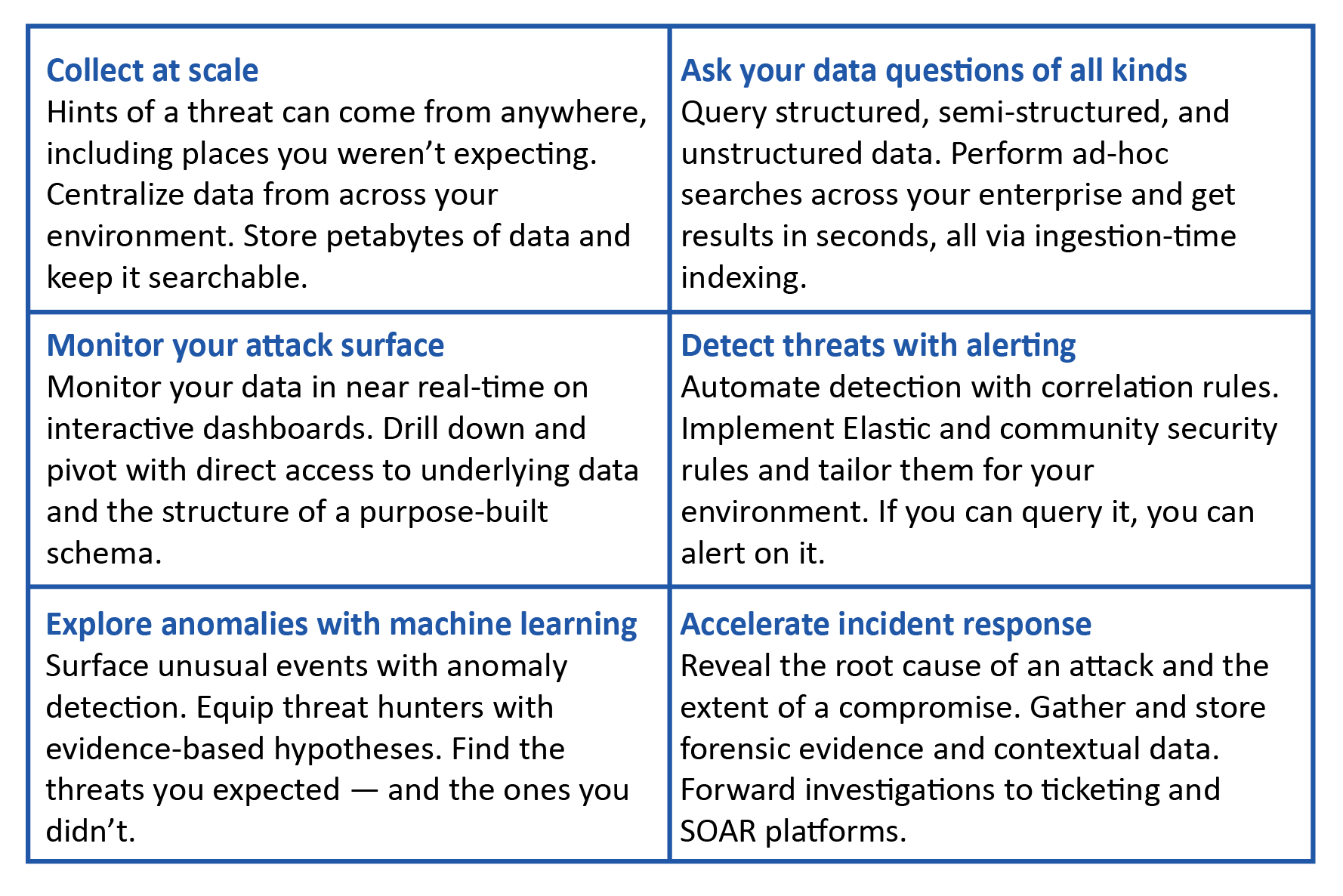 Elastic Observability
Elastic for your observability analysis
Unify and contextualize your logs, metrics, and APM data for a holistic view of the state of your world — from one laptop to thousands of machines around the globe.
The Elastic Stack and the pillars of observability
The Elastic Stack Elasticsearch, Kibana, Beats, and Logstash) brings speed, scalability, and relevance to the pillars of observability. And, of course, exclusive Elastic features like machine learning, alerting, and security are baked in.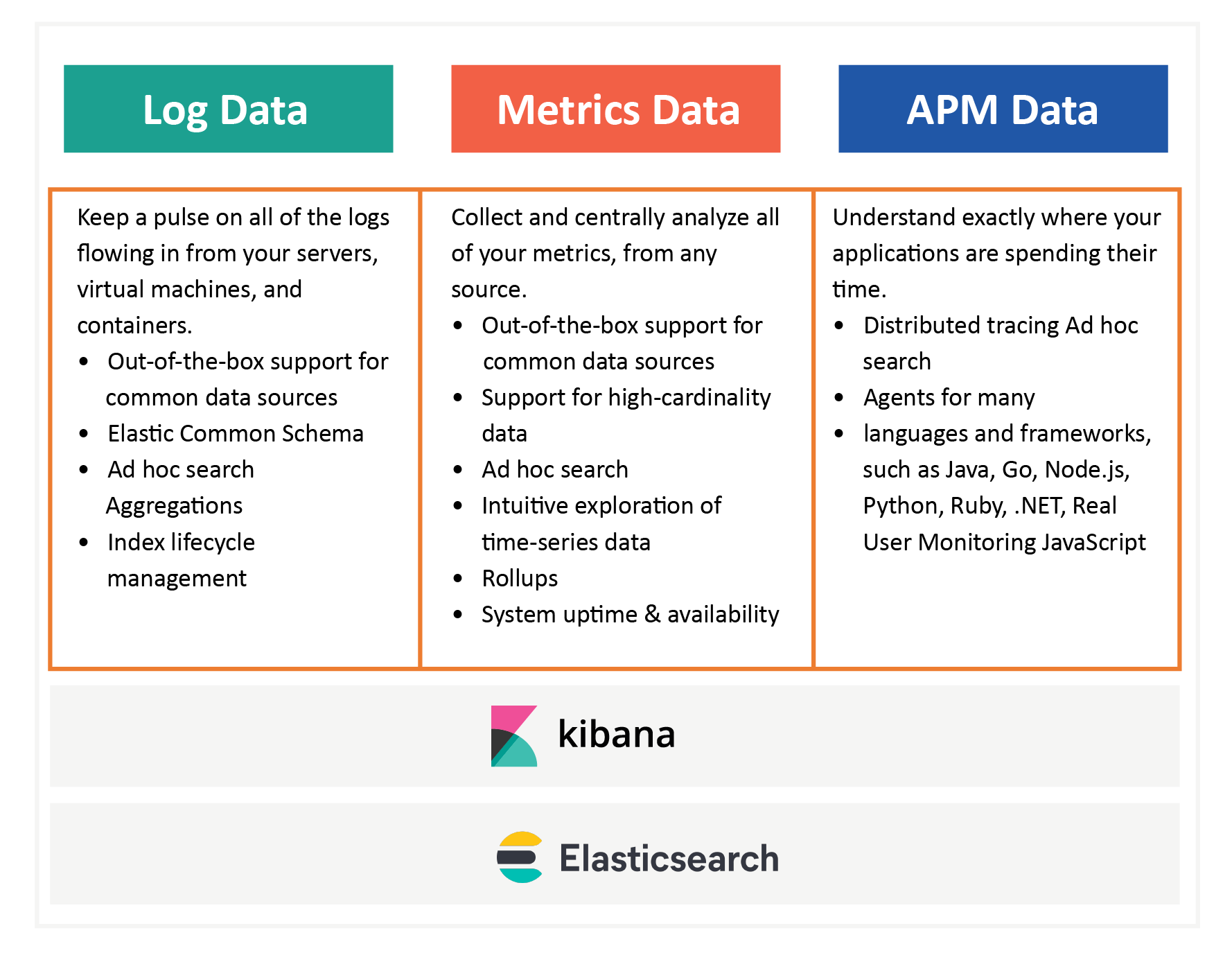 Elastic Enterprise Search
Customer service search at scale: Get the right answer every time
Customers expect great search experiences whenever they engage with your brand. In our search-first world, customers seeking support — and internal teams providing it — rely on intuitive, helpful, relevant search to find answers fast. Great search yields impressive returns in increased customer satisfaction, brand loyalty, and agent productivity. According to Gartner, 96% of customers who need to spend significant effort to resolve their issues become disloyal, compared to just 9% who have a low-effort experience.
90 percent of consumers now expect organizations to o er a self-service customer support portal.
Self-service and case deflection
More than 40% of website visitors say the site's
search experience
is the most important feature (source: Search Engine Journal). When customers can't find the answers they need — quickly — they turn to more expensive assisted support channels like phone, email, and chat. And worse, they'll become dissatisfied with their experience, leading to lower C SAT and NPS scores. In fact, more than a third of customers report being frustrated by not finding the answers to simple questions on business' websites (source: Drift.com).
For customers more inclined to directly contact support, via a web form for example, the right search solution can serve up helpful content as they type their issue, steering them towards ready-made solutions from your help documentation or forums. Deflecting these cases midstream saves dollars downstream, without more costly agent involvement.
Both of these measures lower cost-to-serve and leave your customers with a positive brand experience — helping drive up those all-too-important metrics like C SAT, Customer Effort Score
While customer service is trending to online channels, some industries (like insurance, finance, and banking) will always gravitate toward agent-assisted channels. More complex issues that require human interaction will always still exist. Productive agents become your differentiators. When a tool like
Elastic Workplace Search
puts the content they need at their fingertips, critical contact center analytics — average handle time (AHT , first case resolution (FCR , and one-and-done — improve, helping you control overall cost-to-serve metrics.
Content gap identification
Search analytics can help spot trends and provide critical insight into what your customers are looking for. Utilizing these key metrics can help you zero in on areas where you can shore up your content. Filling these gaps helps you respond quickly to customer needs, improving satisfaction scores and helping keep support costs in check.