Cyber Security Darktrace
Company Overview
Founded in 2013 by mathematicians from the University of Cambridge, Darktrace was the first company to develop an AI system for cyber security. Darktrace founders also include cyber security experts from government intelligence backgrounds, united in their mission to fundamentally transform the ability of organizations to defend their most critical assets in the face of rising cyber-threat.
Darktrace's world-leading AI for cyber defense is analogous to the human immune system – it protects against novel threats, mounting a preemive response, rapidly. The Enterprise Immune System understands your organization's digital DNA – and is relied on by thousands of organizations worldwide to stop even the subtlest of attackers.
Darktrace is headquartered in San Francisco and Cambridge, UK, with 44 offices globally and over 1,200 employees. It is privately owned, with investors including KKR, Summit Partners, Vitruvian Partners, Samsung Ventures, TenEleven Ventures, Hoxton Ventures, Talis Capital, Invoke Capital and Insight Venture Partners.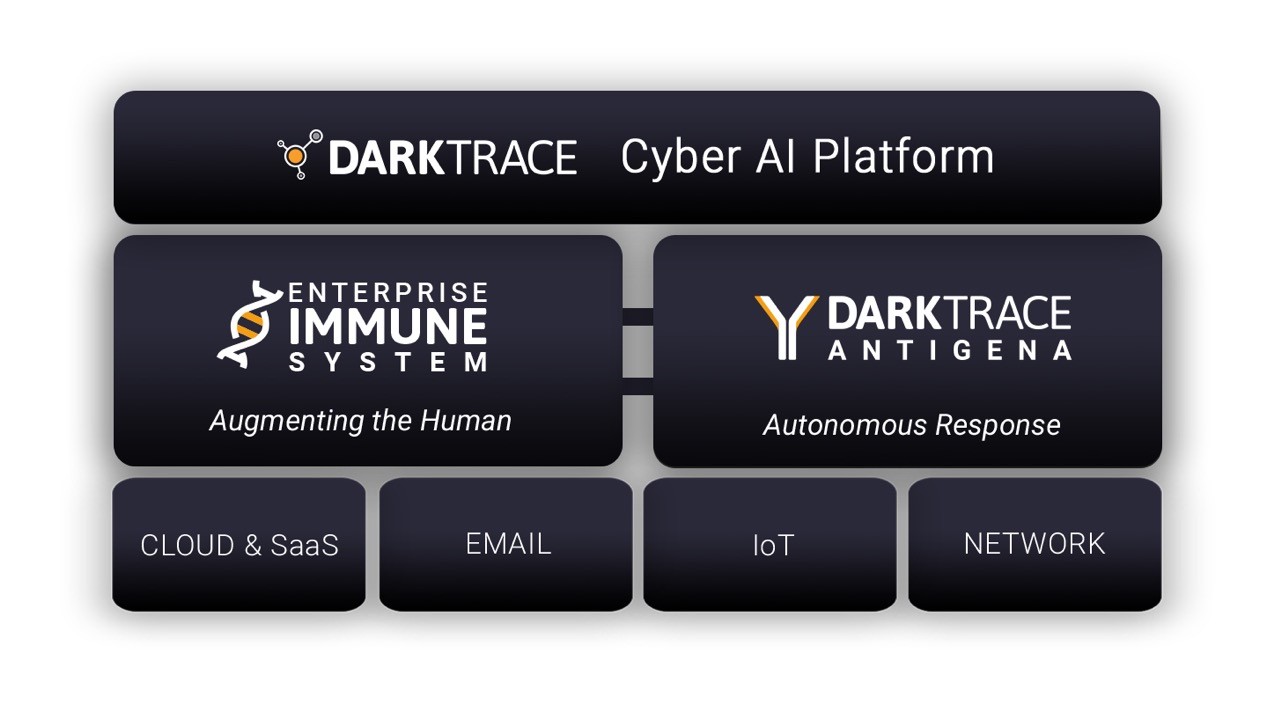 Enterprise Immune System
The Enterprise Immune System is a self-learning cyber AI technology that detects novel attacks and insider threats at an early stage. Modeled on the human immune system, the Enterprise Immune System learns and understands 'self' for everyone and everything in the business, and can spot the subtle signals of an advanced attack — without relying on rules, signatures, or prior assumptions.
Key Benefits
Learns continuously 'on the job' and adapts in light of new evidence

Detects novel attacks at their earliest stage

Installs in under an hour, requiring no manual tuning or configuration

Complete visibility across hybrid, multi-cloud, and IoT infrastructure

Cuts investigation time by 92%
Antigena Network
Powered by Darktrace's Enterprise Immune System, Darktrace Antigena represents the first proven application of autonomous response technology in the enterprise. Having pioneered a unique self-learning approach for real-time speed, taking proportionate action to contain in-progress threats before they have time to escalate into a crisis.
When the system detects a high-severity threat, Darktrace Antigena responds within seconds - taking proportionate action to neutralize the threat and give the security team time to catch up. For example, ransomware - which can infect dozens of computers in just under a few minutes - can be detected and contained within approximately
2 seconds, avoiding spread beyond the initial point of compromise.
Key Benefits
A self-learning Cyber AI that AUTONOMOUSLY DETECTS & RESPONDS in REAL-TIME to any potentially threating behavior on the network

Completes the immunological model with 'Adaptive' mechanics to compliment the 'Innate'

Does not rely on predefined signatures or prior knowledge

Takes targeted, surgical action to contain in-progress threats

Only way to deal with machine-speed attacks

Slows down or stops the progress of novel threats within the network, buying human teams time to catch up
Antigena Email for O365
The Antigena Email User Interface offers multiple layers of depth for any audience; executives can access clear, visualized stats about email activity and Antigena intervention, security professionals can monitor trend alerts and oversee organizational email hygiene, and cybersecurity analysts can leverage the depth of information available to perform complex investigations of any potential malicious activity detected.
Able to respond at any moment in the full attack life cycle to prevent delivery or to react to network events

Adjusts thresholds according to individual user behavior and reports on your most susceptible users

Detects trusted account hijacking; Prevent unknown malware

Anti-spoofing detection; URL rewriting and Attachment neutralization; Advanced detection of phishing attacks
Benefits
Learning from Patient Zero

Visibility, Forensics, & Auditing

Auto-Prioritization of Key Individuals

Works with Default Office 365 Controls

Surgical Response

Incognito Email Defense