Infrastructure Nutanix
What Nutanix Does
Nutanix helps customers modernize their datacenters and run applications at any scale, on-prem and in the cloud. Nutanix software unifies private, public, and distributed clouds, and empowers IT to deliver applications and data that power their businesses.
Nutanix solutions are built on the industry's most popular hyperconverged infrastructure (HCI) technology—a complete, 100% software-defined stack that integrates compute, virtualization, storage, networking, and security to power any application, at any scale. Nutanix software and cloud services unify IT operations and bring frictionless application mobility across different cloud environments.
Public Cloud Benefits You Want. Private Cloud Control You Need. Nutanix delivers the best of both worlds: the simplicity and agility of public cloud combined with the performance, security, and control of private cloud.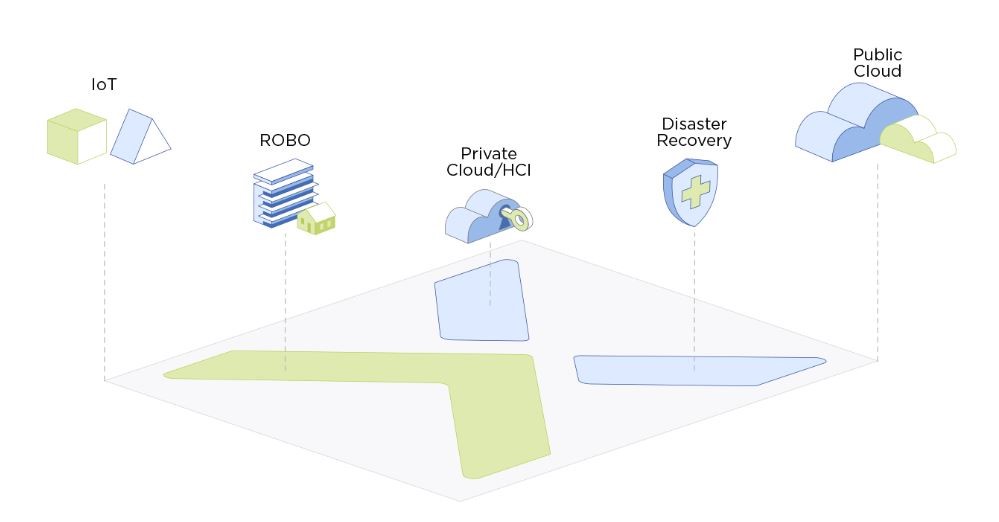 Why Nutanix?
Nutanix helps you start small—scale-up and scale-out to any size deployment and allows you to get centralized, one-click management across workflows. There is no single point of failure—apps and data remain highly available. Customers can enjoy simplified risk management, optimization, and ease of operation. In the security aspects, you can enjoy built-in security, data protection, and disaster recovery. Eliminating planned IT downtime with one-click software updates is another plus. Nutanix also provides high degree of freedom of choices to avoid vendor lock-in and leave rigid environments behind, leverage easy integrations and a full ecosystem of partners. Last but not least, you can get enterprise-grade, license-free virtualization with AHV.
Nutanix - a 3-Time Leader!
Nutanix is the Leader in the 2019 Gartner Magic Quadrant for Hyperconverged Infrastructure.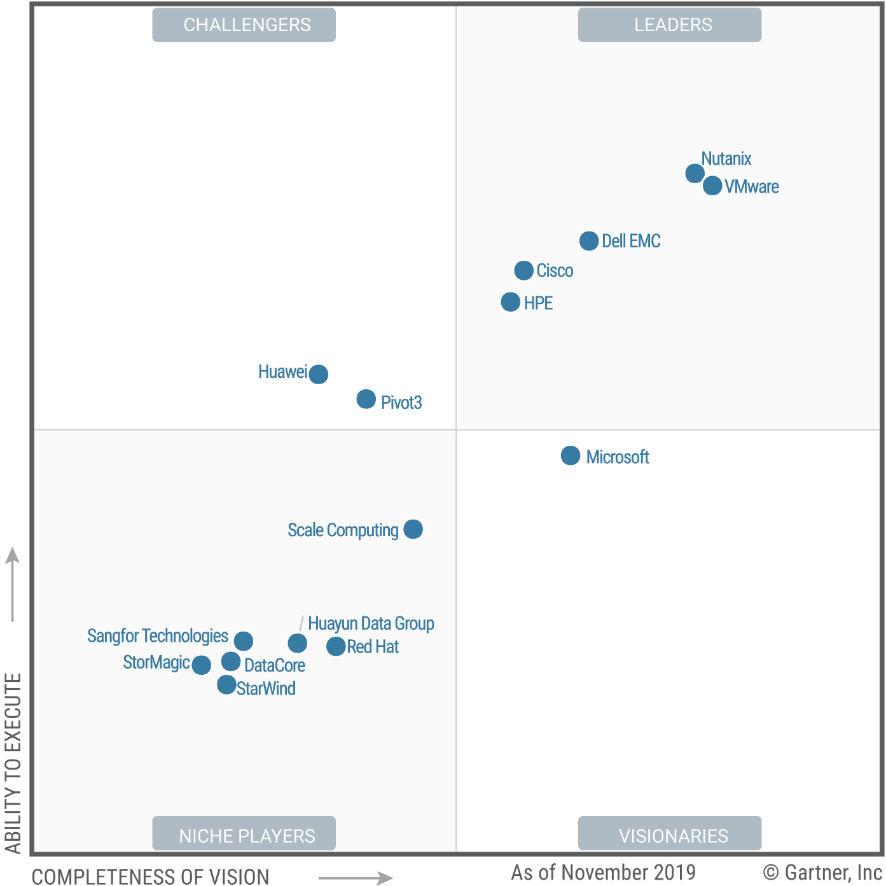 Core Elements
Prism - one-click infrastructure management
Manage all of your virtual environments running on AOS, seamlessly and easily. Prism simplifies and streamlines common workflows to make hypervisor and VM management as easy as checking your email.
Acropolis (AOS) - Intelligent Infrastructure for the Cloud Era
Standardize on powerful, software-defined HCI to deliver all applications, services and data at any scale - so you can focus on your toughest business challenges.
AHV - License-free Virtualization for Your Enterprise
Virtualization is no longer a complex layer of the IT stack that is licensed, deployed, and managed separately. Nutanix AHV offers a secure, enterprise-grade virtualization solution that streamlines operations.
Essential Elements
Volumes - Take advantage of scale-out block storage built into AOS
Access the same simplicity Nutanix offers for virtualized workloads and file storage for your physical workloads. Nutanix Volumes bridges the physical and virtual, consolidating infrastructure into a single unified platform.
Prism Pro - Streamline infrastructure operations with the help of advanced machine intelligence
Powered by advanced machine learning technology, Prism Pro can mine large volumes of system data to automate common tasks and generate actionable insights to optimize virtualization, infrastructure management, and everyday operations.
Files - Enjoy simple, flexible and intelligent enterprise file storage for the cloud era
Massive data growth, increasing governance requirements and the rise of cloud are changing the file storage needs of IT. Nutanix Files provides single pane of glass management simplicity, software defined flexibility, and deep analytics intelligence to meet the modern challenges you face around file data.
Flow - Achieve better application security and enhance network automation.
Deliver application-centric security for your VMs running on AHV via visualization, microsegmentation, and network automation. Extend your functionality further with networking partner integrations.
Mine - Consolidate data availability & management with a turnkey platform
Move to integrated, intelligent data management with Nutanix Mine Platform. Unify your primary and secondary data protection operations, enable cloud-like scalability, and deliver one-click simplicity for all of your backup infrastructure.
Security - Security In the Hybrid Cloud
The Nutanix Enterprise Cloud Platform combines the simplicity of HCI with native platform hardening, security auditing and reporting, and protection from network threats as part of a "zero trust" philosophy that aids in the prevention of cyber-attacks and data loss.
Calm - Provide advanced app-level orchestration across teams and clouds
Eliminate the complexity and repetitive nature of resource delivery via comprehensive app-centric automation from Nutanix Calm. With demands on IT rising faster than ever, Calm enables you to streamline how you manage applications and support the business.
Enterprise Elements
Move - Make the move to Nutanix one-click simple
Automate the mundane and cumbersome steps required to manually migrate or rebuild VMs on an AHV environment.
Objects - One-click object storage where you need it
Forget point solutions, silos, and complexity. Add simple, flexible, S3-compatible object storage to your private cloud to handle growing use cases for unstructured data.
Xi IoT - Simple, scalable, secure edge intelligence for real-time analysis
Deploy intelligence at the edge. Xi IoT delivers AI-driven processing at the edge with a zero-touch software platform that powers real-time business insight and simplifies operations at planet scale.
Era - Up-level your database operations to one-click simplicity
Drive efficiency, agility, cost-effectiveness, and scalability across the enterprise by automating and simplifying database administration.
Clusters - True Hybrid Cloud for Your Applications
A True Hybrid Cloud extension from on-premises datacenters to public clouds: Manage applications in private and public clouds without retooling or rework translation between environments.
X-Ray - Performance and Resilience Assessments for Hyperconverged Infrastructures (HCI)
Evaluate hyperconverged infrastructures (HCI) beyond simple performance benchmarks with the comprehensive analysis of consistent application performance and infrastructure resilience for any combination of HCI, hypervisor, and hardware vendor platform.
Xi Beam - Save 35% or More On Your Hybrid Cloud Spend
Xi Beam provides unified cost governance and delivers savings for public and private clouds. Drive financial accountability with accurate visibility into cloud metering and chargeback. Use automation and intelligent resource sizing to control public cloud spending.
Xi Frame - Run Any Software in a Browser
Deliver virtual apps and desktops to users worldwide. Either in the cloud with AWS, Microsoft Azure or Google Cloud Platform. Or on-premises with Nutanix AHV.
Xi Leap - Cloud-based Disaster Recovery Solution for Nutanix AOS
Achieve SLAs with a cloud-based disaster recovery service built for your Nutanix AOS clusters. Set up instantly, and failover, failback or test recovery plans with a few clicks. Includes a secure, reliable VPN.
Karbon - Kubernetes Management Made Simple
Fast-track your way to production-ready cloud native infrastructure with Karbon, an enterprise Kubernetes management solution. Dramatically simplify provisioning, operations, and lifecycle management.