Cyber Security FireEye
FireEye was founded in 2004 to address the inability of signature-based security solutions to detect the new generation of dynamic, stealthy and targeted cyber-attacks, known as advanced persistent threats ("APTs"). To meet the challenges of detecting these previously unknown threats, for which there were no signatures, FireEye developed our MVX engine. MVX is a virtual machine-based threat detection and analysis engine that works in conjunction with our machine-learning and behavioral analysis capabilities to detect and prevent both known and unknown threats in customers' on-premise networks, emails, endpoints and in the cloud, while minimizing costly false positive alerts.
FireEye provide comprehensive intelligence-based cybersecurity solutions that allow organizations to prepare for, prevent, investigate, respond to and remediate cyber-attacks, including attacks targeting on premise, cloud, hybrid and critical infrastructure environments. FireEye portfolio of cybersecurity products and services helps customers minimize the risk of costly cyber security breaches by:
validating the effectiveness of existing cybersecurity controls before an attack occurs

detecting and preventing advanced, targeted and other evasive attacks missed by other security controls

enabling more efficient management of security operations, including alert management, investigation and response when a breach occurs, and

providing assessment, training and other strategic security consulting services that help organizations improve their resilience to attack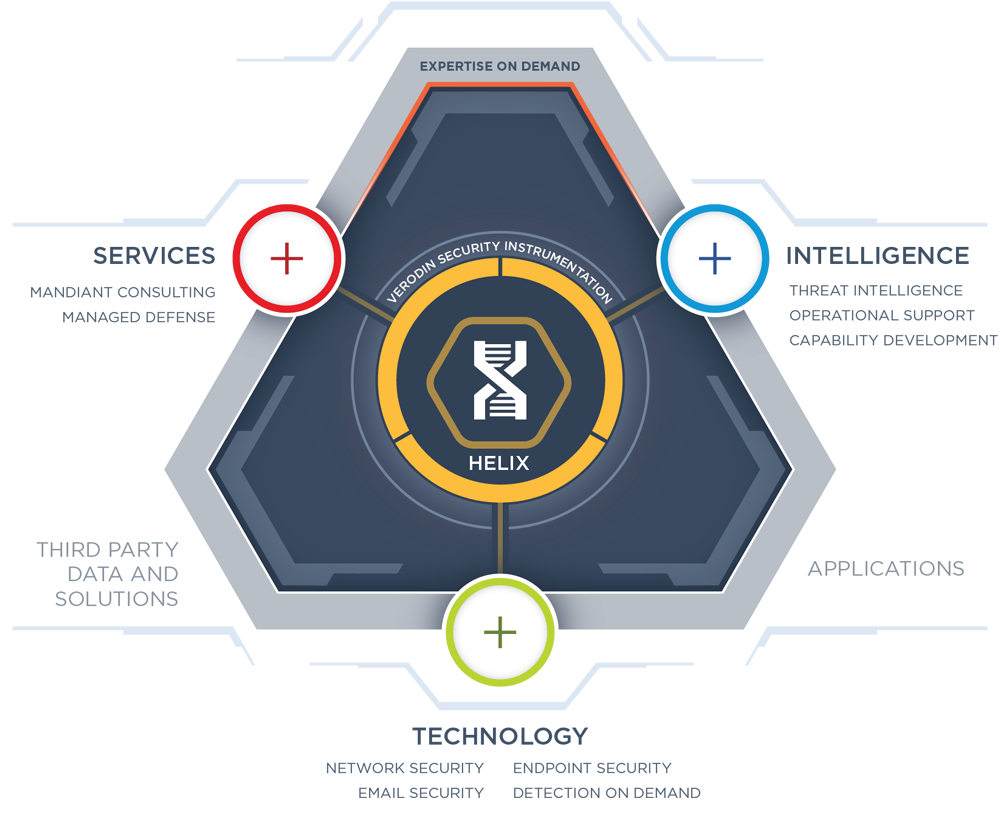 FireEye accomplish the mission through the integration of the core competitive advantages in solutions and services include:
• A machine-learning, behavioral-based, and rules-based threat detection, analysis and correlation technologies, FireEye proprietary Multi-vector Virtual Execution ("MVX") engine, and FireEye security validation, security orchestration, automation and response ("SOAR"), and cloud visibility technologies,
• FireEye intelligence on threats and threat actors based on the continuous flow of machine-based, attacker-based and victim-based threat data from FireEye global network of threat sensors and virtual machines, as FireEyell as threat intelligence gathered by FireEye security analysts, consultants and incident responders, and
• FireEye accumulated security expertise derived from responding to thousands of significant breaches over the past 15 years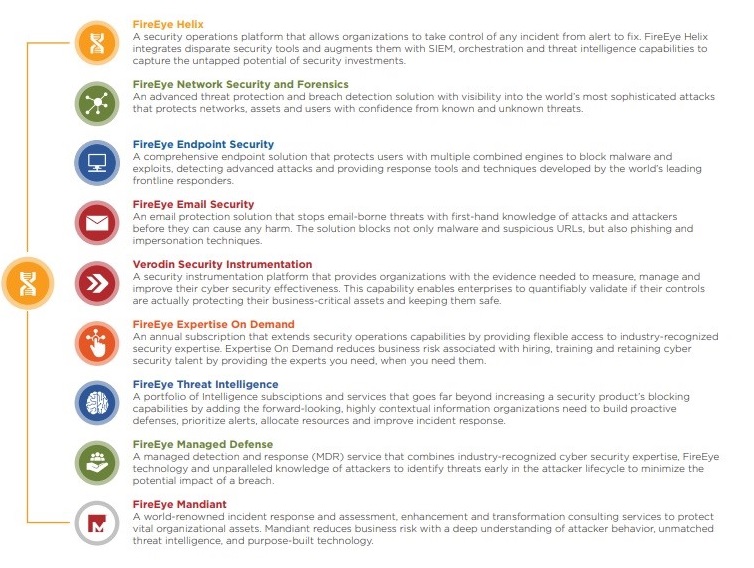 FireEye portfolio of cybersecurity solutions includes network, email, endpoint and cloud security detection and prevention solutions, threat intelligence solutions, security validation solutions, threat analysis and management solutions, and managed detection and response services. FireEye design FireEye cyber security solutions to rapidly incorporate new threat intelligence and adapt to changes in the threat environment in a cycle of intelligence-driven innovation.